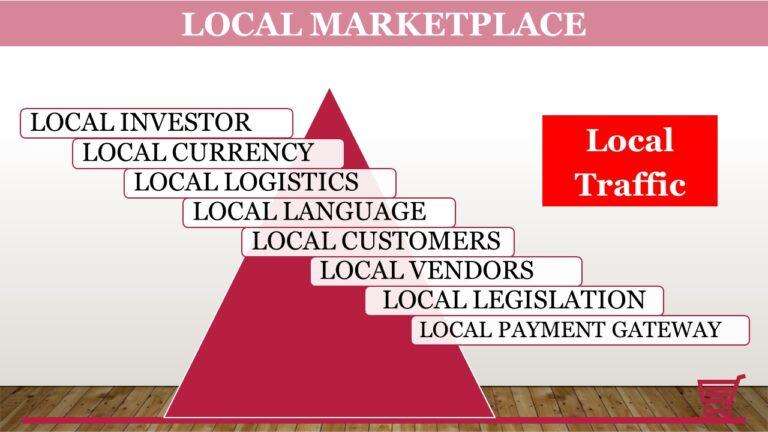 LIVESHOPPING MARKETPLACE in each country of the Network is a Marketplace where customers will find products from many different categories.
LIVESHOPPING MARKETPLACE in each country is local. Everything is local. The language, the currency, the payment gateway, the logistics, the Vendors, the customers, the legislation, everything. And of course, the owner of LIVESHOPPING MARKETPLACE in each country is a local investor (franchisee).
Each local Vendor can open its own store, with its own name and its own characteristics, and do their own Marketing within the Marketplace. Vendor invests in its own name, taking full advantage of its cooperation with the LIVESHOPPING MARKETPLACE of his country.
In its store, Vendor hosts as many products as he wants and has the responsibility of updating its product data base. LIVESHOPPING MARKETPLACE offers all payment and shipping methods with which consumers in each country are familiar.
We offer the tools to the vendor to attract a significant audience (viewers/customers) to their show.
But what makes LIVESHOPPING MARKETPLACE unique is the opportunities it offers to Vendors to sell their products through Liveshopping. A key feature of LIVESHOPPING MARKETPLACE is the use of technology that offers Vendors the opportunity to present their products through Liveshopping, as often as they want, as they want, from every where they want. It does not matter if you are a small or medium sized Vendor. At LIVESHOPPING MARKETPLACE you can simply, with a mobile phone, do Liveshopping and compete with the big Vendors. LIVESHOPPING MARKETPLACE offers enormous power to the majority of Vendors, wherever they are located in a country.
LIVESHOPPING MARKETPLACE systematically invests in the development of the Marketplace, directly integrating any new technology that can make Liveshopping experience unique, both for Vendors and for consumers. It is based on the technology of the largest software company in the world, Microsoft. Hosted in the Cloud, on the most reliable Servers internationally, providing 24/7/365 reliability and exceptional speeds. The Streaming Services that are necessary for Liveshopping are provided by a leading company in the world and we work continuously to achieve the best speeds with the best video and sound quality.